Brattleboro Bicycle Shop
Falcon update and repaint job
Winter 2005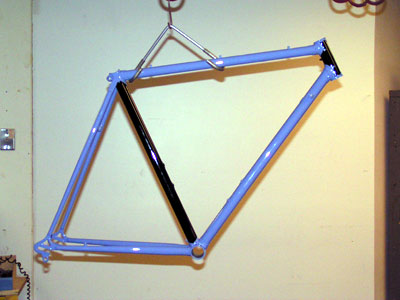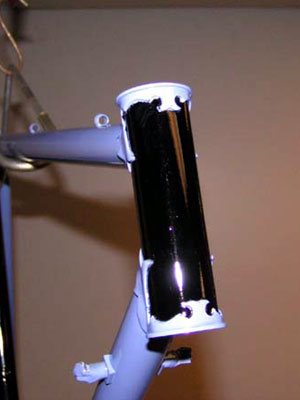 This frame began life as a 1980s Falcon. The owner liked the idea of lugged steel but wanted it updated. We realigned the bent dropout and brazed on all the usual bits. You can see in these photos the bike now has cable guides, shifter bosses, bottle mounts, and a pump peg. We then sent it off to the painter for a bead blast, custom color match, and clear coat.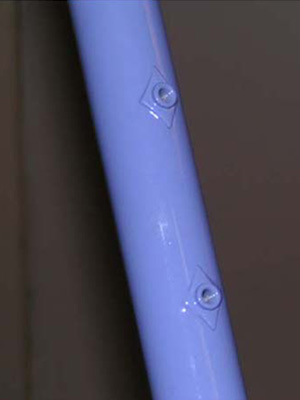 The original paint was all black. The owner chose this blue from a book of paint chips and the painter matched it. The customer will outline the lugs himself with a contrasting paint.
The bottle bosses are placed in the thinnest part of the Reynolds 531 butted tube. You don't see this very often anymore, but we like the extra insurance of the reinforcing diamonds for this. Hey, they look good, too, n'est-ce pas?
Unfortunately for our painter, this design called for masking around the cut-out lugs and bottom bracket. This kind of job takes more swearing and so costs more. You just about always have some hand finishing to do around these areas.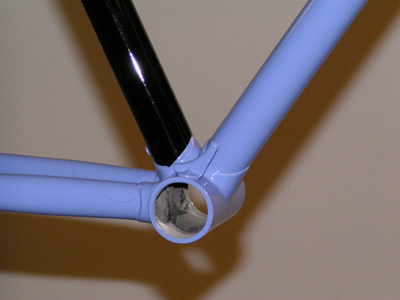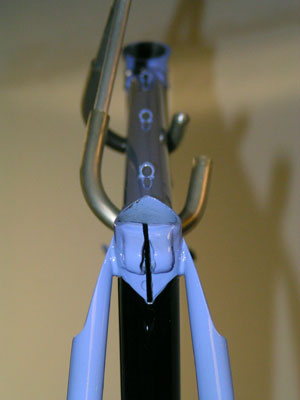 This customer has a good eye for style. The seat stays were originally capped with ordinary-looking plugs. These are very friendly to the builder because they are quick to make, but they are heavy and plain. This bike's owner guessed the plugs were solid and filed them into this nice ogee shape. Lucky for him he didn't go through, and this is the least-stressed area of a traditional frame design.
«Previous Bike | Next Bike» | Back to Service Page