"..just do whatever you think it needs."
We can do almost anything you'd want to do to fix or build a bicycle, but our most appreciated service is the advice we provide on repairs. Often the question is not so much "can it be fixed?" as it is "is it worth doing?" or "how much does it mean to you?" Think this over before you drop it off, and we won't have to stop to call and ask you about it.
The three parking spaces out front turn over quickly and are often available in the afternoon. Between the new parking garage on Elliot St. and the Harmony, High-Grove, and Harris parking lots there are over 1000 parking spaces within one block of our store.
We do not take appointments. All scheduling is soonest in, soonest out. You can monitor your bike's status in our work queue by following the service schedule link in the sidebar.
We try to finish tuneups in one business day wherever possible. We do get behind during the spring rush, so please plan ahead.
Don't try to drop the bike and rush out. We won't let you leave until we are both clear about what you want done. We will do our best to give you a rough estimate of time and cost at the time you drop it off.
Brattleboro Bicycle Shop is not responsible for bikes or parts left over 30 days after work is completed. We reserve the right to impose storage charges for any bike left over 30 days after it is completed, and please don't expect us to be able to find any bikes or parts left with us for over a month.
using the bratbike repair calendar
You can check the status of your repair job online! Click on Repairs & Service on the navigation bar above, then look for the Service and Repair Schedule link on the left. This takes you to the calendar showing the staus of repair work at Brattleboro Bicycle Shop right now. We won't normally let anyone leave us a bike without getting an idea of the cost to fix it and a due date. If we have to order parts or get an OK from you for unplanned work.. well, you get the idea.
When you drop off your bike we put a number on it and enter it into the calendar. If Mr. Smith's bike is number 06, the calendar listing wil be 06Smith. After we finish working on we write it up and change the listing to 06Smith-DONE. When Mr. Smith picks it up and pays the bill it becomes 06Smith-PICKED UP . Click on your name and you'll get a pop-up window with the details of your job.
We do have our fun working on bikes. Here's a random sampling of fun stuff. Click on the photos for enlargements in a new window. Enjoy!
---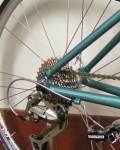 Fuji Ace 24 Customization
---
---
---
---
---
---
---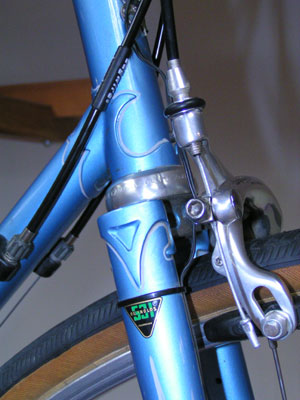 Custom Rivendell