top of page

top of page

top of page
Our Business Friends
Many of the folks who run businesses in town love bicycling. That means many of our neighbors have also been our customers over the years. Here's an introduction to some of the faces in downtown Brattleboro—from a cyclist's perspective. (For food establishments please see our Where BratBike People Eat page).
You know this list will always be incomplete. We have been downtown denizens since 1983 and the previous owners introduced us to lots of good people who were around long before that. We'll do our best to update this over time, giving priority to downtown businesses who have web sites (did we mention that we build web sites?).
Art
The Gallery in the Woods, Main Street -
Dante and Suzanne Corsano actually run the real Gallery in the Woods up in Marlboro, so this should be the Gallery in the Town. Dante's real love is working with wood, hence his other business, Dante's Infurniture.

The Artist's Loft Gallery and B&B -
William and Patricia are your hosts for a most unusual trip into the heart of Brattleboro. Nobody knows more about the shops in town than they do, and none of the other galleries are quite like this one. Sign up for the email newsletter and get monthly glimpses into the mind of a master landscape painter at work.
Diners and casual places
Chelsea Royal Diner, the last thing on Rte. 9 in Brattleboro - We like diners, and the Chelsea Royal is Brattleboro's diner. We have never had a bad meal there in 19 years. Bike parking there is just locking your bike to the railings, but they sell soft-serve ice cream (with flavor burst!) around the side in the summer months.
There are interesting specials every day ($5-$12) in addition to a rotating, blue-plate special (funny, the plates are white). Breakfast is served all day. Lots of food, reasonable prices.
Okay, we made an exception to the food-page rule. We really like the Chelsea Royal Diner.
Lodging

Latchis hotel and theater, a really interesting complex at the foot of Main Street. The Latchis family had a small chain of around a dozen hotels at the beginning of the last century and decided to build this buildng as the showpiece, flagship building of the chain. There is no other art deco architecture like this in all of southern Vermont (or anywhere else in VT, for that matter - please correct me if I'm wrong).
The Latchis is friendly to cycletourists, always willing to find a secure place for the bikes. The immediate vicinity includes the Food Coop & Deli, Bruegger's Bagels, park benches by the Whetstone Brook so praised by Thoreau, and the attractions of the Latchis's three movie screens.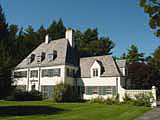 Forty Putney Road B&B, a classy place to stay within waliking distance of downtown. It's a very elegant, large house run by some nice folks who ride bikes (and bring them to us for service).
Entertainment
The Latchis Theater (see above) is Brattleboro's art moviehouse and largest performance venue. Off the top of the head we can remember recent concerts by David Bromberg, the amazing assemblage of fiddle music called Child's Play, and the annual Christmastime tradition of Nowell Sing We Clear.
New England Youth Theatre began as a small project in the Latchis Theater building and has grown to a major force in downtown Brattleboro. Located a block down Flat Street behind the Latchis Hotel, NEYT is a safe place for would-be theater professionals to grow up immersed in their craft and have tremendous amounts of fun doing it. Check out their website and feel free to donate.
Of course, a brand new theatre building is also an excellent place to have music. Seating capacity here is a small fraction of the the Latchis' main theater, but it's a nice, intimate place.
Speaking of intimate places, the Hooker-Dunham Theater and Gallery is where the musicians come to play in town. Not the only and by no means the easiest venue to find, but certainly the first little room in town. The place is run by musicians and the list of great performers and local events to have crossed this stage is really something, especially considering you have to find the sandwich board on the sidewalk and make your way down the alley and into the bowels of an old warehouse to get there. It's really worth it!
Touring
Ted Cavotta is the driving force behind New England Adventures, one of the tour organizers who pass through Brattleboro each summer. Ted is very thorough in his preparations and, though we have never been able to take off for a week to ride with one of his group tours, we understand he has many repeat riders and few unhappy faces.