7/7/2012
Selling a GT steel classic.
The time may have come for us to part with some of our own personal bikes. Case in point: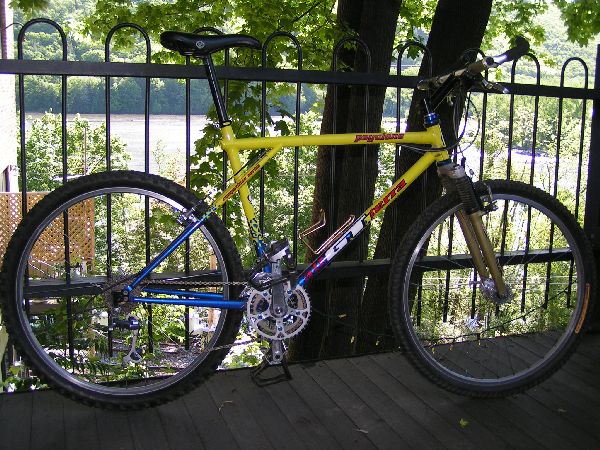 This is my GT Psyclone, which dates from the early 1990s. The Psyclone was never sold as a bike model, only as a frame from the "skunk works" Tech Shop in Colorado. There is a bit of interesting and proud history to recount here. In the run-up to the Atlanta Olympics, USA Cycling asked GT to work with them to outfit the US National teams, road and track, with frames for racing and training. For many years afterwards, all athletes (not just cyclists) using the Olympic Training Center facilities in Colorado Springs could check out a GT-donated bike for cross-training purposes. Forrest Yelverton was hired to oversee production of road, track, and mtb frames in steel and aluminum, while the celebrated Titanium Xizang frames were built for GT by Sandvik. I had a chance to see the National Team track racers use some of these steel track bikes at the portable Vandedrome track when in San Diego, and some friends of ours saw road versions at the Killington Stage Race at around the same time. Jimi Killen rode a Psyclone frame just like this one to a gold medal win at the Mountain Bike Junior World Championships in 1990. We ran a booth at the Mount Snow expo tent for GT in those early days and spent a few hours sitting with young Jimi. He was a nice kid.
This color scheme was called GT Team Scream, an effect in which the blue and yellow do not fade into each other, but actually break up into each other. This is achieved by the laborious technique of applying many individual pieces of masking tape from a die-cut pattern. As far as I know, GT only ever used this technique on these Psyclones and on the Stars and Stripes National Team Bikes, where is was particularly attractive. Later on some $400 Timberline models got the same look produced with a decal.
When we first got this frame in I made a beam balance out of a dowel and hung it in the window balanced against a bag of potato chips and a bottle of Pepsi. I thought it made for an interesting question: "which side will take you farther?" For a month people kept stopping in to ask what exotic material it was made of and many were astonished to find that it was good, old-fashioned, 4130 aircraft steel -- drawn into some fancy shapes. Heat-treated chromoly just has an optimum set of properties for making a hardtail mtb.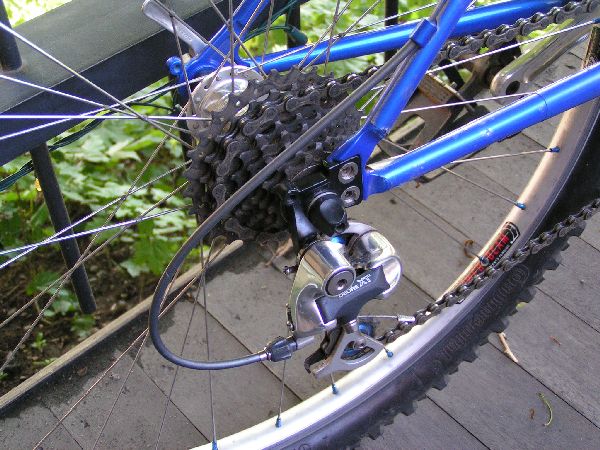 This bike has matching, blue-anodized derailleur pulleys, spoke nipples, chainring bolts, and headset. Wheels are hand-built by me (I'm a DT-certified wheelbuilder with 37 years' experience), using WTB Laser Beam rims and 32 tied-and-soldered Wheelsmith XL spokes. XT rear hub, Phil Wood front "suspension hub". XT rear/LX front derailleurs and 8sp XTR brake/shift levers.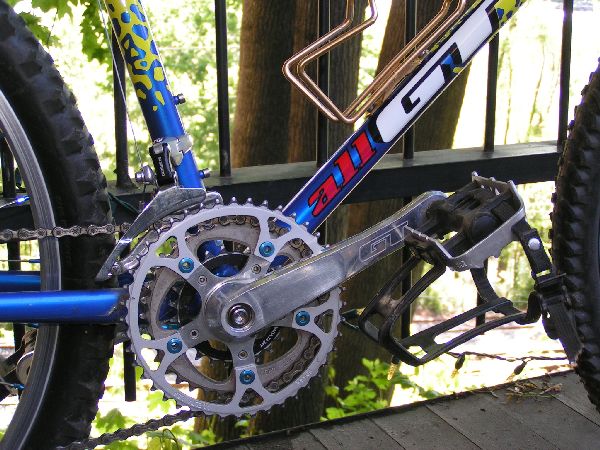 One thing that always bothered me was that GT had a whole catalog of GT-branded parts for aftermarket sales and none of it was ever spec'd for any of their bikes. Well, this bike sports a Profile-made GT CNC crankset spinning on a Titanium, sealed-bearing GT bottom bracket set. There's also a GT-branded Easton flat handlebar.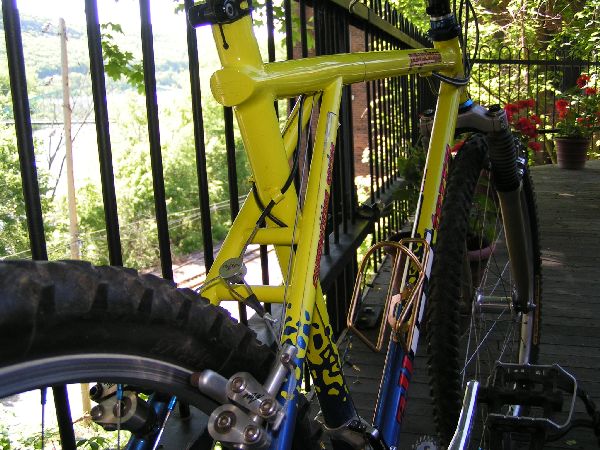 This photo show several things. First, the bike is really immaculate because it was protected with a urethane tape sold for the snowboard industry. Not scratch-free, but so close! Second, you can see how clean the fillet brazing is. Third, the Onza canti brakes are one of the few designs that permit independent adjustment of pad angle, toe-in, and rim gap - as the pads wear down you just loosen the appropriate bolt and shoot them in without changing any of the other adjustments. If they had all been made this way we might never have gone to v-brakes. Finally, the bike still has the Rock Shox Mag21 air-oil fork. This is kind of the crux of the whole bike question: upgrade to just about any modern fork with more travel and better performance, or leave it as a period piece because it still works fine? As Rock Shox founder Paul Turner used to say, there is more precision machining in this fork than in the entire rest of the bike put together. There are eight separate tuning adjustments that can be made, four of them can be done without dismantling the fork. That's the decision for whoever ends up with this bike.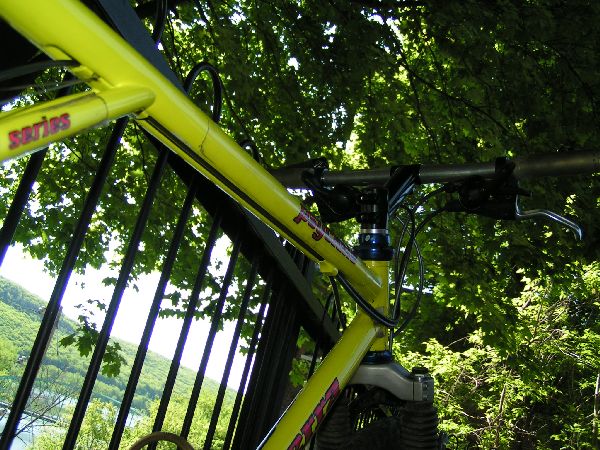 Finally, here you can see the unique GT Groove Tube. This bike was the first year for this feature and lacks the later Groove Tube decal. GT challenged True Temper to figure out a way to make a butted tube with an indented flute that starts and stops in the middle of the tube. The result was this very clean cable routing that never snags on anything. This makes me smile every time I pick up the bike or sit on the top tube.
So, if you want a one-of-a-kind classic, handbuilt, top-of-the-line piece of cycling history that also happens to be one of the sweetest-riding mountain bikes you'll ever see, and you happen to need an 18-inch frame with a 23-inch top tube, you can have this one for $2000 cash. I began this whole story by saying it MAY be time to sell it... I'm really still on the fence, so if there are no takers it will be an excuse to keep it!