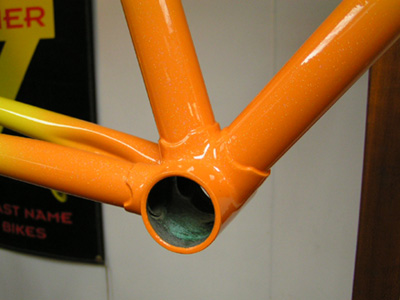 Bratbike #1, because this is the first frameset we ever built (back in 1987). We were Terry dealers then and were happy selling bikes with small front wheels to women under 5'4". We wondered what it would be like to have a properly-proportioned bike with same-sized wheels that were smaller than 700C, but there were no wheels to fit the bill. Then, one day - eureka! - we noticed a catalog listing for Sun rims in 650C, a then unknown size.
I had wanted to try building a frame since 1975 and knew pretty much what it was about. I also had encouragement from several friends who had made a living doing this work. A perfect combination of circumstances for an experiment. Imagine my shock when the frame was built and we found the rims didn't really exist!
We found ourselves on the phone with a production engineer at Sun Metal, who assured me that the rims were supposed to be made for that distributor, but that they were low priority due to nonexistent demand. He very nicely had a pair rolled up and drilled to our specification so the project could continue.
I would like to think we were the very first to build a 650C bike, but right around this time one of the editors of Bicycle Guide had one built for himself and wrote it up for the magazine. Of course, since then they have been used by Tony Rominger and Tyler Hamilton in the Tour de France and become something of a standard among triathletes for their light weight and better aerodynamics.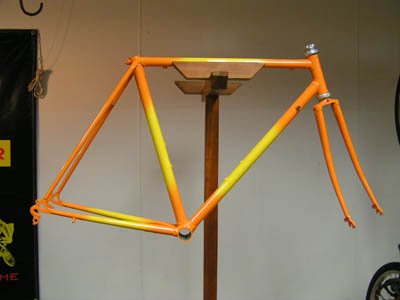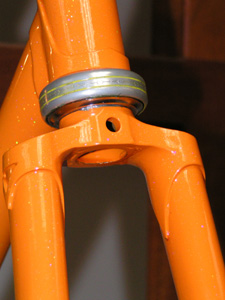 Barb has ridden this bike with much satisfaction over the years. It has mostly served as a commuter, but also is the bike on which she recorded her personal best for a time trial. It was always lacking a decent paint job and had also been built in the era before STI levers and split cable guides. Another quirk: since 650C was an experiment I also sized the bike to accommodate 26x1-3/8-inch tires for use as a touring bike. This meant there were no modern, dual-pivot calipers to fit the necessary brake reach. It was finally time for an update.
I added a second set of bottle mounts, the aforementioned cable bits, and fabricated/machined drop adapters for the brakes.
The color scheme was inspired by a Louis Garneau jersey, which in turn is based on the Euskaltel team colors. This repaint, which includes bead blast preparation, two color Imron fades, prismatics, and clear coat, costs about $250(2008 prices). A bargain, for sure.
The frame itself is of Columbus Aelle double-butted chromoly tubing, with investment cast fork crown, stamped lugs, and forged horizontal dropouts. We realigned the back end to 130mm and refitted just about everything. Although nearly everything we sell these days has a nice triple chainset, this bike's smaller diameter wheels mean you can have a 39x32 low that works out to about 29 inches. That's why we opted for an 18-speed setup with medium cage Deore XT derailleur and road standard Ultegra 53x39 rings.